I'm
nearsighted
. I got my first pair of glasses at age 22. It was a late winter afternoon, and I remember walking out to the parking lot afterwards and standing slackjawed, wrapped up in the intricate patterns created by bare tree branches against the
gloaming
sky. It's a
Caspar David Friedrich
mood, something I hadn't been able to perceive clearly for years, my eyes steadily degrading under the influence of
AutoCAD
.
There's got to be a whole thread in art history tracking changes in the representation of trees. Tree drawings have a unique place at the overlap of cultural convention, technique, and perception. Gothic trees are either cartooned icons or diagrammatic trees-of-life. 18th century British landscape trees are brown and puffy, like drifting clouds of coalsmoke. The interlaced branching in Celtic art, with crossings alternating over and under each other, might be the first algorithmic tree drawings.
This fork of the thread resurfaces in the fractal trees of 90s computer art, and the fascination, in complexity and chaos theory, with intricate systems built from simple, iterated rules.
A city is not a tree
, but a tree is not a
fractal
. In a rule-based system, there's often the question of how to admit variation, in scripting this can come from a call to the
random() class
, which is actually pseudorandom: a seed number taken from a query to the system clock, then run through a bunch of messy math. Random input is also available from natural or
stochastic
processes: cosmic rays, vacum tube static, or in the case of
Rod McLaren's excellent series of drawings done on the tube
: the bumps and lurches of a 140 year old underground public transit network. Rod has composed fragments of his tube drawings into a version of Friedrich's
Ruined Abbey Among the Oak Trees
:
In general, the problem of tree drawing is this: how to reproduce an intricately complex object without resorting to convention. The problem speaks directly to the perception of pattern and the perception of noise, and the representation of either or both with media-specific techniques. Nobody wants to sit there and draw every branch, but how do you break it down without being reductive? And how do you avoid the double traps of reliance on technique and/or cliche?
These issues, (along with figure vs. ground, shapes vs. lines, shapes vs. patterns, etc.) come up in a series of drawings I've been working on and off with over the last few years. Process-wise, it started with this photo of winter branches silhouetted against an even grey sky:
Fascinated by the shapes, and wanting to know more about how they were put together, I dialled up the contrast and started playing around in photoshop. Composing by removing: I sliced away pieces of the pattern to leave behind figures that had a kind of scaleless abstraction, with indistinct boundaries: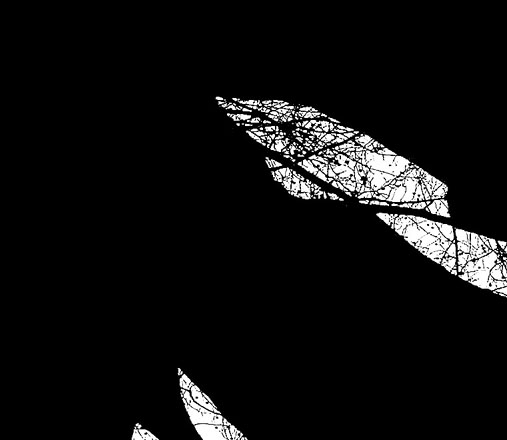 This is all just trying to track down and isolate the qualities that made me want to snap the photo in the first place, a kind of interrogation of the image to find out why it was attractive and interesting: how much could be removed and manipulated without losing the life of it? (disclaimer: I am aware of, and somewhat disturbed by, the overtones of that last sentence, but we'll let it stand as a fair statement of intent for now)
Drawing the pieces left over, the problem is the detail level: which specific bumps and divots can be glossed over, and which are necessary for the reading of the shape as a whole, and of it's relations to the other shapes? This is like the classic fractal problem proposed by Benoit Mandelbrot:
how long is the coastline of England
? The answer depends entirely on how long a ruler you've got:
A more detailed version of the same composition, here I realized another problem: I was starting from the shapes instead of starting from the lines. This was forcing decisions about the detail level into a prematurely early phase of the process. If the whole set of steps that make the drawing could be reordered, the means of representation would more closely mirror the means of production in the orignal tree: 'fat lines -> medium lines -> thin lines' is an isomorphism of 'trunk -> branch -> stem':
So there's a shift in perception: the shapes aren't primary, they're just the spaces between the lines, the lines have a texture at their edges that shape the spaces, and they are broken down loosely into hierarchies and sub-hierarchies. This opens up the territory and the process, stop at any point and explore any area, and it should all still make sense:
So that's what I did, drawing the fattest lines with a big marker, the smaller lines with a thin sharpie, and the tiniest lines with a fine gel pen. The drawing becomes diverse in time and in space, and exploring pieces of it with a camera is interesting while it's being worked, maybe more interesting than the final piece, maybe interesting enough to branch off into still other projects:
The biggest piece took about 50 or 60 hours to finish, it's the most time I've ever invested in a single drawing, and I think it was the way in which the landscape of the page kept changing that kept my interest. This started out as an exercise in learned pattern-making, the idea being that to analyze the method of production would be to acquire the use of that method, adding it the repretoire and using it later without a direct model, freestyling a tree, or tree-like thing based on the same rules. But the commitment to direct observation was also, in the end, productive. Some of the most interesting things were the bits that didn't fit the diagram, the coincidences that couldn't be planned, that would be edited out of a more orderly thing, the unexpected and the strange: